DC Comics continuity can be divided into four major timelines or "universes": the Golden Age (1938 debut of Superman to early/mid 1950s); the Silver/Bronze Age (mid 1950s-1986); Post-Crisis (1986-2011); and the current "New 52″ universe.
Silver/Bronze Age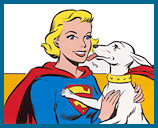 The adventures of the original Supergirl, Kara Zor-El, were published by DC Comics from 1959 to 1985. Supergirl starred in Action Comics, Adventure Comics, Supergirl, Superman Family and Daring New Adventures of Supergirl and made numerous appearances in the Superfamily comics. Kara died in the 1985 Crisis on Infinite Earths comic series.
Post-Crisis: Matrix and Linda Danvers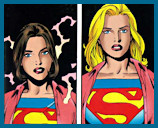 In the post-Crisis universe a new Supergirl known as Matrix was introduced, a shapeshifter who was created from the genetic matrix of another universe's Lana Lang. Matrix merged with a human girl named Linda Danvers in the 1996 Supergirl series, gaining a human identity and a new set of family and friends. Supergirl also acquired new powers as an earth-born angel. Linda Danvers retired from being Supergirl at the end of her series in 2003, but not before encountering the Silver Age Supergirl in the final six issues of the series.
Read more about Matrix and Linda Danvers.
Post-Crisis: Kara
Kara Zor-El was reintroduced in 2004 with a new origin story in SUPERMAN/BATMAN. She starred in the 2005-2011 SUPERGIRL series and played an active role in the Superfamily books and on a number of teams, until DC Comics relaunched their comic universe again with The New 52.
Read more about Post-Crisis Kara and her comics.
New 52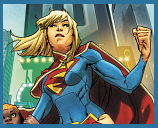 Supergirl currently stars in the rebooted 2011 Supergirl series and makes appearances in the New 52 Superfamily books.
TV and FILM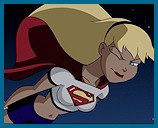 Supergirl is well known outside comics from her appearances on the Superman and Justice League animated TV series. She also starred in the 1984 SUPERGIRL theatrical film as part of the SUPERMAN film franchise. A version of Kara also appeared on TV's Smallville during Season 7, in the Season 8 episode "Bloodlines", and in the Season 10 episodes "Supergirl" and "Prophecy".
Read more about Supergirl in the DC Animated Universe and the SUPERGIRL film.
ALL AGES SUPERGIRL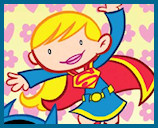 Supergirl appears in a number of series that take place outside the main DC continuity. The miniseries Supergirl: Cosmic Adventures in the 8th Grade and the series Tiny Titans and its successor Superman Family Adventures have proved popular with their fun, accessible and iconic stories for all ages. Supergirl has also made appearances in the comics based on the DC Animated Universe.
Power Girl
Power Girl is Supergirl's counterpart from the alternate universe world of Earth 2. She's a few years older than Supergirl and is noted for her independent and assertive personality. In the New 52 universe Power Girl's backstory has been revised (she is the former Supergirl of Earth 2) and she is teamed with the reimagined Huntress (former Robin of Earth 2) in the series Worlds Finest.
Read more about Power Girl at Maid of Might's sister site Power-Girl.org.
AME-COMI GIRLS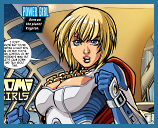 The digital-first series Ame-Comi Girls features an alternate universe of all-female heroes and villains. The character designs are based on a series of anime-influenced collectible figures. Recommended reading for Power Girl and for the chance to see a team book filled with reimagined female characters in every role, but not a good book for Supergirl. The series is action-packed and a lot of fun, and Power Girl plays a lead role starting with the Ame-Comi: Power Girl mini. However the often ridiculous costumes and gratuitous sexualization of the characters by some artists can be a real barrier, and Supergirl is almost immediately turned into Dark Supergirl and spends most of her small screen time incapacitated.
Read more about Ame-Comi Girls.