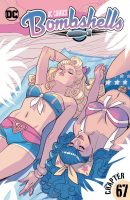 DC Comics: Bombshells is a digital-first series set in an alternate World War II-era universe where all the heroes are women. Supergirl is Kara Starikov, a defected Soviet heroine and adopted sister of Stargirl. The series ran in weekly chapters from 2015-2017 on Comixology and in print issues. The entire series has been collected in six volumes. This series was followed by the digital-first series Bombshells: United from 2017-2018, later collected in three volumes. Kara appears in many issues across both series, but primarily appears in the first series.
DC Comics: Bombshells Vol. 1 – Enlisted
On sale Mar 8, 2016
Available at Amazon
Collects print issues #1-6 (digital chapters 1-18)
As Word War II rages across Europe, the Allied forces issue a call to arms for the greatest heroines the world has ever known, the BOMBSHELLS:
KATE KANE, the all-American Batwoman;
DIANA OF THEMYSCIRA, warrior Princess of the Amazons;
KARA STARIKOV [aka Supergirl] and KORTNI DUGINOVNA [aka Stargirl], defenders of Mother Russia;
MERA, royal daughter of the legendary Atlantis
With aid from their allies at home and abroad, these mighty women will turn the tide of war and defend those inviolable rights of Truth, Justice and Freedom.
DC Comics: Bombshells Vol. 2 – Allies
On sale July 19, 2016
Available at Amazon and digital bookstores
Collects print issues #7-12 (digital chapters 19-36)
The shadow of WWII looms ever larger as the Bombshells battle the Axis Powers across the globe.
In Gotham City, a quartet of copycat BATGIRLS are doing their part to protect the home front. In Greece, WONDER WOMAN faces a battalion of the undead, led by the villainous Baroness Paula von Gunther. In London, STARGIRL and SUPERGIRL learn a shocking-and dangerous-family secret, while MERA encounters a monstrous threat from the sea that not even she can control.
And in Berlin, ZATANNA attempts to thwart the evil magic that's been released into the world, while the CATWOMAN and HUNTRESS rescue a captured BATWOMAN from the clutches of the Third Reich.
But the paths of these superheroines will converge as they face their greatest challenge yet. To defeat the undead tenebrae soldiers overtaking London, they'll have to form a Justice League of their own!
DC Comics: Bombshells Vol. 3 – Uprising
On sale Mar 21, 2017
Available at Amazon and digital bookstores
Collects print issues #13-18 (digital chapters 37-54)
With an old villain arising from beyond the grave, Wonder Woman, Batwoman, Kara Starikov, Kortni Duginova and Mera must aid the Allied forces while at home, a brave group of Batgirls must defend the homeland!
EUROPE, 1941. War is raging across the continent. The forces of darkness are on the march—and the magic powers of heroes like ZATANNA, MERA and CONSTANTINE have been stripped away. And in the underground cabarets of Berlin, the JOKER'S DAUGHTER rules with an iron fist.
On the home front, the BATGIRLS—an army of freedom fighters modeled after their favorite Bombshell—battle against Gotham City's most infamous criminals with the help of MAGGIE SAWYER and LOIS LANE. And deep inside enemy territory, a rebel alliance is forming. BATWOMAN, CATWOMAN, ZATANNA, HARLEY QUINN, POISON IVY, RAVEN, CONSTANTINE, the HUNTRESS and RENEE MONTOYA are ready to strike hard and fast against the Nazi menace.
DC Comics: Bombshells Vol. 4 – Queens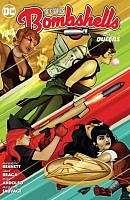 On sale June 27, 2017
Available at Amazon and digital bookstores
Collects print issues #19-24 (digital chapters 55-72)
As World War II rages around them, Batwoman, Catwoman and Renee Montoya take a journey to Africa to get help from an old ally: Vixen, Queen of Zambesi and co-founder of the Bombshells.
But they're not alone. The lethal Cheetah has her claws out, and she's digging them directly into a forbidden site: the dwelling place of the mechanical gods, whose incredible powers could spell triumph for the Reich and the destruction of all that the Bombshells hold dear.
Now Vixen, her fellow Bombshells founder Hawkgirl and the rest of the squadron must face their biggest threat yet! Can this brilliant but beleaguered African queen count on the support of a fellow royal—Wonder Woman—to turn the tide?
DC Comics: Bombshells Vol. 5 – The Death of Illusion
On sale Oct 3, 2017
Available at Amazon and digital bookstores
Collects print issues #26-29 (digital chapters 76-87) and DC Comics: Bombshells Annual #1
As World War II rages across Europe, the Bombshells battle new enemies showing up out of the woodwork… and a Bombshell we haven't seen since the Battle of Berlin shows up to help!
DC Comics: Bombshells Vol. 6 – War Stories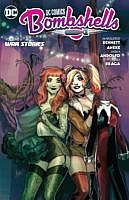 On sale April 3, 2018
Available at Amazon and digital bookstores
Collects print issues #25 and #30-33 (digital chapters 73-75 and 88-100)
The Bombshells face their final battle as a supernatural Nazi invasion begins! On top of that, Hugo Strange unleashes his failed lab experiments on Harley Quinn and Poison Ivy's circus and Lois Lane has her chance to avenge her family on the villain — will she take the shot? Amid the chaos, discover Lex Luthor's true colors as he reveals which side he's really on, and what that means for the future of the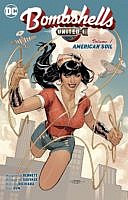 Bombshells!
Bombshells: United Vol. 1 – American Soil
On sale July 3, 2018
Available at Amazon and digital bookstores
Collects print issues #1-6
Joined by teen heroines Donna Troy and Cassandra Sandsmark, Wonder Woman must wrestle with the dark spectre of internment camps imprisoning American citizens at home and the threat of xenophobic villains including a renegade military force called the Mud Pack. But even the two Wonder girls plus teen heroines Emily Sung, Yuki and Yuri Katsura, and the mysterious winged heroine called Dawnstar aren't enough to protect Diana from Clayface, whose powers affect the very clay that was an intrinsic part of Wonder Woman's origin!
Bombshells: United Vol. 2 – War Bonds
On sale Oct 23, 2018
Available at Amazon and digital bookstores
Collects print issues #7-12
Years ago, before she became the battling Bombshell known as Batwoman, Kate Kane and Renee Montoya loved and fought together in the Spanish Resistance, and even formed a family with their adopted son Jasón. But their lives were turned upside down, and Kate found a new life and a new love for herself in Gotham City.
Now Kate is back in Spain, working with Renee once again to save the country from a tyrannical ruler…only this time the despot has unstoppable occult powers. His name is Black Adam, and he's lived for millennia seeking the moment he can gain control of the powers of life and death.
Batwoman, Renee and Black Adam are all defined by whom they've loved and lost. But beneath the ancient streets of Madrid, a mystical labyrinth conceals the means to bring life back to the dead: a Lazarus Pit. With this incredible power, will Black Adam gain the final piece he needs to crush the entire world under his heel? Or will the dead have their own say in it?
Bombshells: United Vol. 3 – Taps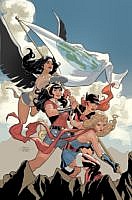 On sale March 5, 2019
Available at
Amazon
and digital bookstores
Collects print issues #13-19

However, their findings leave the Bombshells divided! The Batgirls are determined to track down the source of their friends' misfortunes, and their investigation leads to an eerie spit of land, where a lone radio tower projects a deadly signal that curses all who hear it.
The Art of DC Comics Bombshells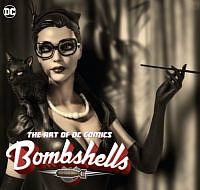 On sale Nov 29, 2016
Available at Amazon and digital bookstores