Justice League United Vol. 1: Justice League Canada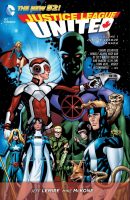 Published Mar 2015
Collects JLU #0-5
In the aftermath of FOREVER EVIL, Adam Strange is caught up in an adventure across the far reaches of the cosmos that will unite an unexpected team of heroes including Supergirl, Hawkman, Green Arrow, Stargirl, Martian Manhunter and Animal Man – and the debut of the young Canadian hero known as Equinox.
Written by Jeff Lemire; Art by Jed Dougherty, Mike McKone.
Justice League United Vol. 2: The Infinitus Saga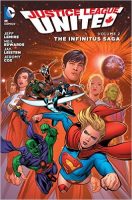 Published Dec 2015
Collects JLU #6-10, JLU Annual #1, Justice League: Futures End #1 and Justice League United: Futures End #1
A group of time-traveling crusaders called the Legion of Super-Heroes has suddenly appeared on the JLU's doorstep with a dire warning: Ultra, the multi-alien hybrid the team just rescued from the mad Thanagarian shape-shifter, Lord Byth, has a future of doom and destruction ahead of him. The Legion has come back to stop young Ultra before he ever gets a chance to become Infinitus, annihilator of worlds!
Written by Jeff Lemire; Art by Neil Edwards.