Final issue Superman Family Adventures ships April 2013
This wonderful series is coming to a close with SFA #12 on April 24, 2013. Covers for upcoming issues and bonus images from the DC Comics blog have been posted to the gallery.
What's next for creators Art Baltazar and Franco? A Kickstarter project called Ah Yeah Comics! – which has already doubled its goal as of writing —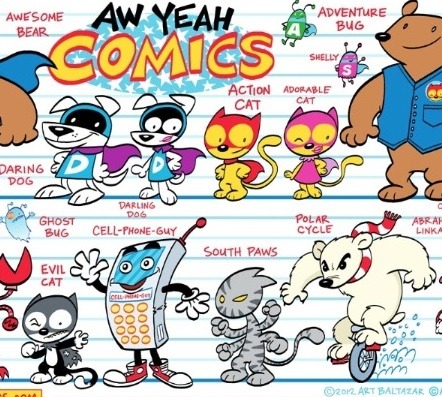 AW YEAH COMICS! will be a new all-reader friendly comic book featuring characters created by Eisner and Harvey award winning cartoonists Art Baltazar and Franco. Though centered around Action Cat and Adventure Bug, AW YEAH COMICS! will have a whole cast of characters created just for this title.

We've a long list of talented contributors on board and plan to mix stories by established creators with those of up and comers. Accessible to adults and children alike, our hope is to present a comic book that has just as much to offer a little girl as it does a little boy, and leave absolutely no one out of the fun.

Because fun is important. Fun is a good thing for a comic book to have, and we want to add a little bit more of it to what's out there now.
Visit the Ah Yeah Comics Kickstarter for more.