Steve Orlando, Brian Ching & Emanuela Lupacchino Are The New "DC Rebirth" Supergirl Creative Team
At the DC Comics Rebirth panel at Wondercon today (which I watched via the live stream archived here), we learned that the Rebirth Supergirl series will be written by Steve Orlando (most recently on Midnighter) with artist Brian Ching on interiors and Emanuela Lupacchino on covers. The series will launch September 2016.
Supergirl has her classic costume back, with boots and thumbhole sleeves inspired by the TV series and the stylized S-shield from New 52. I love it.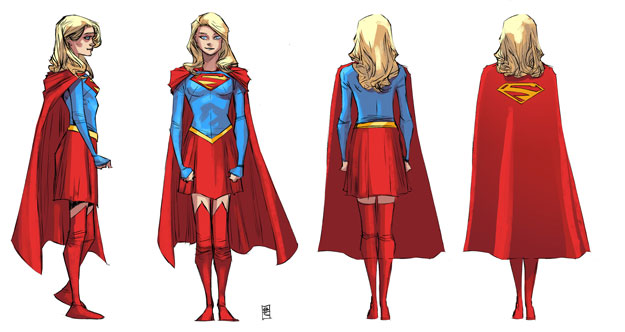 As Geoff Johns explained, "There are a lot of nods, and homages or tip of the hat to the classic versions of the characters. We got a lot of feedback when we launched the New 52. We might have gone a little far. But we do listen, we incorporated your ideas, your thoughts. So you'll see across the line a lot of interesting adjustments to the looks and aesthetic look of the entire universe."
Orlando spoke about his plans for the character, which you can watch here or read transcribed below.
I have a lot of reactions to this announcement and take on the character, which I wrote about on Twitter.
I hated the Cyborg Superman story with a passion, and thought it was the worst twist on Supergirl's mythos introduced by New 52. (It was telling how the audience gasped in horror at the revelation that he's Supergirl's father Zor-El – I suspect many comics fans are unaware of this.) It felt like we'd put that bizarre misstep behind us, and the Crucible storyarc left the character in a really good place. Seeing this storyline revisited and old story beats rehashed seems like a step backwards. I have to hope that Orlando has plans to rehabilitate this huge mistake in the New 52 canon somehow. He seems to have a very positive, uplifting take on Supergirl, which gives me some confidence. But I'm baffled why he seems to be describing Supergirl from some point pre-Red Daughter of Krypton, as though the new series is ignoring the last year of character development that was so good. And just how many times are they going to "bring back" Krypton/Argo?
I'm thrilled about having Emanuela Lupacchino back, even if only on covers. I'm unfamiliar with Brian Ching's work, and I have mixed feelings about his fashion choices for Cat Grant. But I'm intrigued by what I see here.
Edited to add: DiDio revealed in the press-only Q&A session that "Supergirl will feature National City and Cat Grant, but won't follow the show."
Transcript of Steve Orlando's 'Supergirl' segment from the live event:
With Supergirl first of all an honour to take on the character. It's an auspicious character. Very excited to be working with Brian Ching, Emanuela Lupacchino on the book.

With Supergirl it's all about, first of all the things that make, in my opinion, classic comics, classic Superman comics: enormous ideas, large scale heroism, and just amazing feats of compassion that to me, that's what the superbooks mean. At the same time, we're talking about what makes Supergirl a little different from Superman. He came here as a baby. Supergirl has a different experience. She has left things behind on Krypton. So her experience as an outsider, I think, makes her unique. She's building bridges between cultures she's come here a new world, a new language, a new type of people she has to acclamate to, that's welcoming her, but she has to find out exactly how she fits into this world, and she's wondering, maybe Krypton is where I belong, maybe I *want* that back, and just as that happens, someone comes into her life that has that offer for her. We see the return of Cyborg Superman, the story is called "The Cyborg Supermen", and especially auspicious for Kara when she finds out that Cyborg Superman is her father.

Zor-El as the Cyborg Superman wants to do what any dad does, and make his life better for his daughter, and give her everything she wants, as a child. But the problem is, he's a villain now, and he does things in his own way. So when he comes and says, "Supergirl, Kara, you wanna be back on Krypton, you wanna be back on Argo, well I could take you there." But something is a little twisted. So when she gets there, the big question is, will this be what she's been waiting for, will this be what she needs, or maybe thanks to Zor-El, maybe it's gonna be actually her worst nightmare.