Cover Girls of the DC Universe Supergirl Statue (2011)
DC finally did it: the perfect Supergirl statue! This is something I can be proud of displaying. Adam Hughes, you did good.
Really, really good! This is the first Cover Girls statue with a custom base and a character in motion. Supergirl's right foot balances almost imperceptibly on a rock as she stretches upward, fists clenched in the iconic flying pose.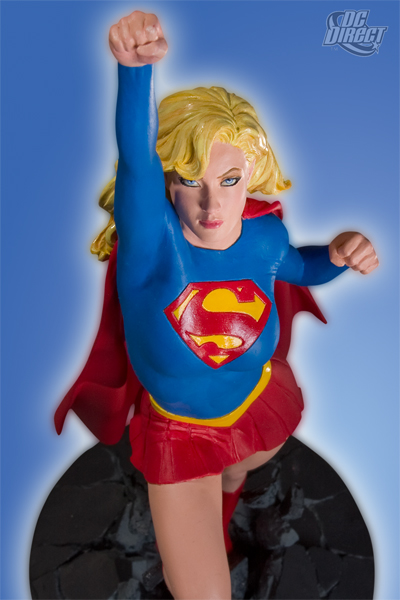 SMASHING!

With strength and speed, the Girl of Steel blasts up through soil and stone, shattering solid rock, shooting into the stratosphere. As the Kryptonian cousin of Superman, Kara Zor-El has her sights set on the stars, streaking through the heavens in a supersonic blur — a soaring symbol of justice and truth.

Supergirl is the latest hero to join the stunning COVER GIRLS OF THE DC UNIVERSE statue series, with fan-favorite artist Adam Hughes specially commissioned to design Supergirl for this smashingly successful series.

Hand-painted, cold-cast in porcelain and measuring approximately 11.75″ high x 4.25″ wide x 5″ deep, this statue is packaged in a 4-color box.

Limited Edition.
$99.99 US | On Sale January 12, 2011