Toy Fair 2016: Funko Introduces Supergirl in POP! Vinyl and New "Rock Candy" Form
Funko used this year's New York Toy Fair to announce two different figures for Supergirl fans.
First up is the first Supergirl Pop! Vinyl figure. To my surprise, this is classic comics Supergirl and not TV Supergirl. About time! I've no doubt a set based on the CBS series will be released later in 2016.
Funko also used Toy Fair to debut a brand new 5″ stylized vinyl figure line called Rock Candy which has two branches: DC Rock Candy, which is devoted to female DC Comics characters, and Barbie Rock Candy. The first wave in DC Rock Candy includes classic Supergirl, grey-suit and Burnside (!!) Batgirl, classic and film Wonder Woman, and classic Harley Quinn. The first two figures, Harley and movie Wonder Woman, will be available in May.
Rock Candy is what Vinyl Vixens should have been. Cute, sturdy, and just the right height, Funko is supporting the line with a healthy range of popular characters right from launch. Including multiple versions of certain characters in the first wave is a smart, fan-pleasing move. This leaves open the possibility of seeing a Melissa Benoist Supergirl in the future. And just imagine all the other characters they could add in the future! I cannot wait to see these in mass market retailers like HMV.
Here are official press photos from Funko showing the proposed packaging. A number of these appear to be computer-rendered models (most noticeably Supergirl and classic Wonder Woman), and not the final products as seen at Toy Fair above.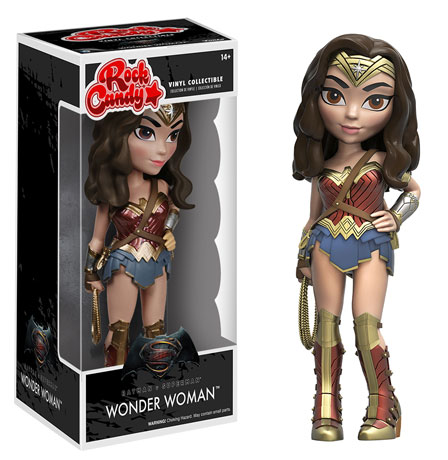 Seeing Supergirl finally take her rightful place amongst these characters is a real treat. I was hoping for Funko to do a TV Supergirl set this year, but I never dreamed they'd come up with a whole new line of my favourite characters that's this cute.
It's great to see Funko expanding their offerings of female characters this year. Their instagram has photos of a new Sailor Moon (!) line, Barbie Rock Candy, the 2016 Ghostbusters, Spider-Gwen and Captain Marvel. 2016 will also bring sets based on the Clueless and Mean Girls films.