DC Reboots Entire Universe in Bid to Win Modern Readers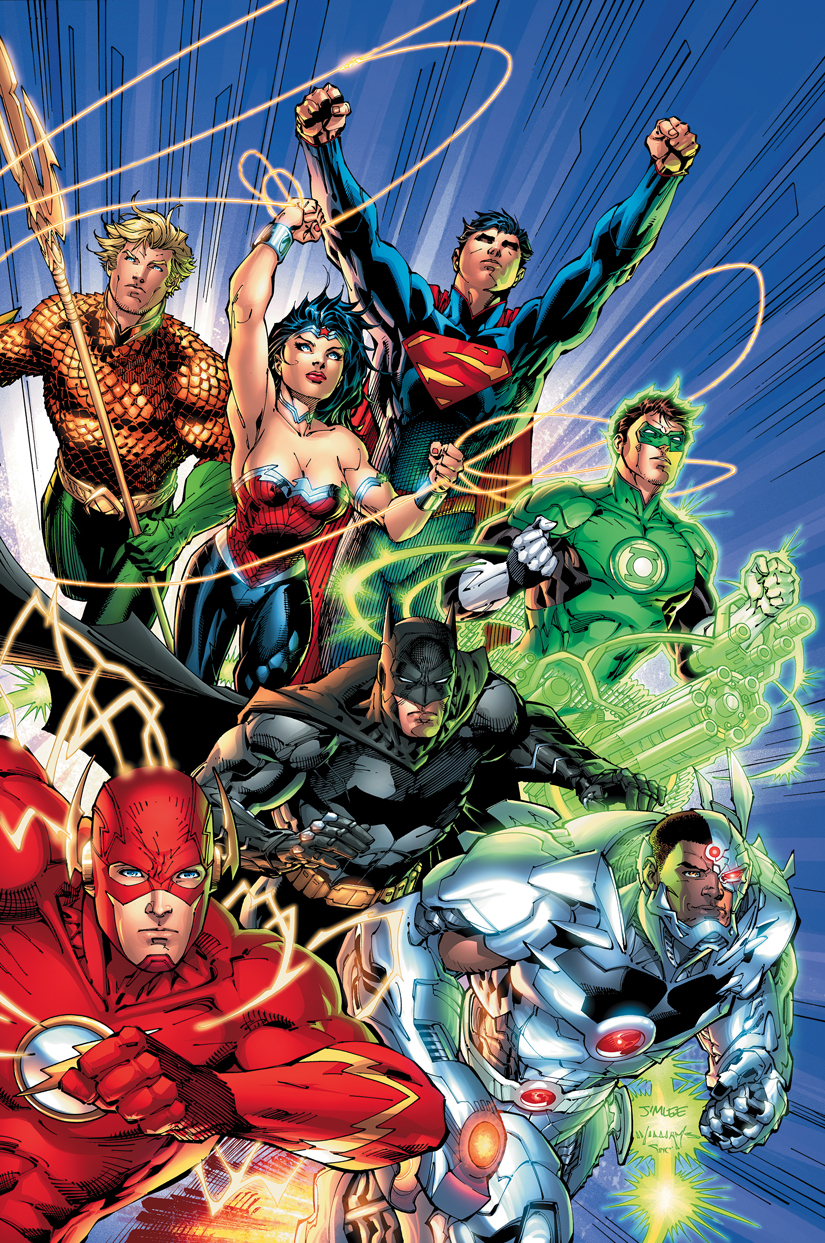 Has DC lost their collective mind? This sounds like an April Fools' joke, but it's not: DC is rebooting its universe and relaunching/launching 52 titles with new #1 issues in September. That is, all series will end in August. Some will come back changed, some won't return, and some will be new series. They're retelling origin stories (for some) characters, tweaking costumes, and shuffling creative teams. The plan is to start "not at the beginning, but at a point where our characters are younger and the stories are being told for today's audience" (Dan Didio).
What was the point of all those big event stories of the past few years? Why reboot so many characters who are just fine? Why is DC so terrified of its own rich history? And what are all those hoped-for new readers supposed to do when faced with a fascinating list of trades that no longer "count"? I don't get it, I truly don't.
From DC's The Source:
Tuesday, May 31st, 2011

This year, change is in the air at DC Comics.

On Wednesday, August 31st, DC Comics will launch a historic renumbering of the entire DC Universe line of comic books with 52 first issues, including the release of JUSTICE LEAGUE by NEW YORK TIMES bestselling writer and DC Entertainment Chief Creative Officer Geoff Johns and bestselling artist and DC Comics Co-Publisher Jim Lee. The publication of JUSTICE LEAGUE issue 1 will launch day-and-date digital publishing for all these ongoing titles, making DC Comics the first of the two major American publishers to release all of its superhero comic book titles digitally the same day as in print.

DC Comics will only publish two comic books on August 31st: the final issue of this summer's comic book mini-series FLASHPOINT and the first issue of JUSTICE LEAGUE by Johns and Lee, two of the most distinguished and popular contemporary comic book creators, who will be collaborating for the first time. Together they will offer a contemporary take on the origin of the comic book industry's premier superhero team.

In the hours, days and weeks to come, we'll have more news about the other titles. Tomorrow, we'll hear from Co-Publishers Dan DiDio and Jim Lee about this momentous occasion. Keep checking THE SOURCE for updates about the other first issues.

This year, make history with us.

– DC Comics Announces History Renumbering of All Superhero Titles and Landmark Day-and-Date Digital Distribution
DC expanded on their shocking announcement in an interview on USA Today. Be sure to read the whole thing, but for now here's one pertinent piece:
In the rollout of the revamped DC Universe, some titles will return, a lot of titles won't, and DC will have a wider range of books starting in September, DiDio says. In addition, three-quarters of the creative teams will be shuffled around — series that are successful and writer/artist combinations that work well together won't be tweaked too much, he says.

"We've got a new set of creators coming in with new voices in the DC Universe," DiDio says. "We really want to bring a new energy and excitement to our books."

– DC Comics unleashes a new universe of superhero titles and part 2, DC Comics ready for a risky yet relevant publishing change
Welcoming new creators is great news, but my sympathies go out to all the creators and staff whose futures just became even more unsure.
A Note From the DC Comics Co-Publishers: We Hate Secrets

Wednesday, June 1st, 2011

By DC Comics' Co-Publishers

If you know us, you know we both hate secrets. In fact, you might've seen one (or both) of us have a grin or two on a convention panel recently. Why? Because it's hard to keep a secret as big as the news we shared yesterday.

DC Comics will be making history this September. We'll be renumbering the entire DC Universe line of comic books with 52 first issues. We're publishing innovative storylines featuring our most iconic characters helmed by some of the most creative minds within the industry.

Not only will this initiative be compelling for existing readers, it'll give new readers a precise entry point into our titles. And on top of that, all of these titles will be released digital day-and-date across the board.

Yesterday was just the beginning. After all, we don't want to spoil the many surprises we have up our sleeves. It's so important to us to make sure you maintain those feelings of excitement and unexpectedness when you pick up a new issue of our books.

We're energized and looking forward to have you come on this journey with us as we make history this September.

—Jim Lee & Dan DiDio, DC Comics Co-Publishers
The company-wide relaunch is a push to win new readers, centered around digital distribution. It makes sense. As Geoff Johns and Jim Lee state, the renumbering/relaunch will "give new readers a precise entry point into our titles". DC absolutely needs to gain new readers, and digital comics are absolutely necessary. The question is whether revamping the entire universe and alienating all their existing readers who now feel that everything they've read and invested in for however many years is all for naught (AGAIN) is a wise business decision. It isn't necessarily a great thing for new readers either. At some point every new reader starts to dig into the history of their new interest, and every reboot only adds to the confusion.
The characters also are getting a makeover. While most of the specifics are still top secret, Lee says he worked with both staff and freelance artists to redesign costumes in a contemporary way as well as alter the physicality of many heroes and villains to modernize the DC Universe. (USA Today)
Details on the makeovers are unknown at this point. Details on everything are sketchy. The only visual we have to go on is this cover to Justice League #1, and I had to look really hard to see any meaningful changes. (Superman seems to be sporting blue rather than red shorts, but that may be the Green Lantern field messing with the colouring.) I see no change to the "physicality" of the characters here. And that JLA line-up is the complete opposite of "diverse" (geez). I'd love to see DC actually address the well-known critiques of superhero physiques (namely, they're gendered in stupid, offensive ways) and focus more on the characters who aren't cis-hetero-white-dudes which they already have. But I'm not holding my breath. For all the vague promises made in the USA Today article and on The Source, I do not expect any real progress on diversity of any sort.
Comic Book Resources has more insider details in DC Announces Post-"Flashpoint" Details, Relaunches All Titles:
In a letter to retailers, DC's Senior Vice President-Sales Bob Wayne explained that the new No. 1 issues "will introduce readers to a more modern, diverse DC Universe, with some character variations in appearance, origin and age. All stories will be grounded in each character's legend — but will relate to real world situations, interactions, tragedy and triumph."

"Some of the characters will have new origins, while others will undergo minor changes," he wrote. "Our characters are always being updated; however, this is the first time all of our characters will be presented in a new way all at once."
And in Details Emerge on DC's Relaunch, CBR reveals specifics on creator changes from some anonymous sources. These are all unconfirmed, and any rumors from gossip site Bleeding Cool should be considered suspect.
---
I can't help thinking that DC is trying to make this seem like a much bigger relaunch than it really is for the newspapers. I cut most of the opinion parts of this post because it was getting too long, and there's almost no concrete details right now so I feel like I'm just spinning my wheels in speculation. Just go read Jess and Phela (don't worry about the "adult content notice", that's just a Dreamwidth thing). They cover most of what I think is wrong with this decision.