DC Comics Announces All-Ages Superman Family Adventures Series
Superman Family Adventures is the new project from Tiny Titans creators Art Baltazar & Franco. Sadly this means that Tiny Titans is ending, with March's Tiny Titans #50 being the last issue. That's a milestone to be proud of. I'm pretty bummed about TT ending like everyone else. Among other things, the series was great because it gave us a chance to enjoy a huge cast of characters who would normally never appear in one of the many DC Kids books that focus on one of their more famous male leads.
Kara's a little bit older looking on this cover, but clearly recognizable from Tiny Titans. Her Supergirl costume is inspired by the New 52 redesign but keeps her red skirt, so I'm happy. Superman's wearing his New 52 duds, but in the hands of Art Baltazar he still looks like "Superman". The only thing that bugs me is that Superman is so big compared to everyone else. Lois looks tiny in his arms! Thankfully Superboy is recognizable in his pre-New 52 black t-shirt and jeans. I can't tell from this cover, but I'm hoping Supergirl will continue to be depicted as floating a foot off the ground like in Tiny Titans and Art Baltazar's Super-Pet chapter books. I do hope there's a feeling of continuity between the two series.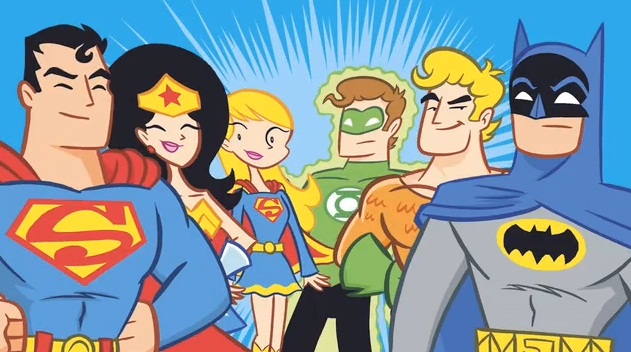 How long has it been since we've had an all-ages, kids-friendly, fun for the whole family "super" book? Superman Adventures ended in 2002 so…it's been a while. This book is generating a lot of enthusiasm online, and no wonder! After the disappointing New 52 relaunch, fans are primed for something genuine that brings back the fun and the spirit of Superman. I'm a little cautious because it does limit the cast of characters to Superman's world, and I worry that the Big Guy will dominate over the rest of the super family. Naturally I want to see Supergirl get a significant part and not be on par with, like, Krypto. But I'm optimistic given the the enthusiasm in Art and Franco's reactions in The Source's press release:
Back in December, we announced SUPERMAN FAMILY ADVENTURES, a new ongoing monthly series for readers of all ages by the Eisner Award-winning creative team of TINY TITANS, Art Baltazar and Franco.

Today, take an exclusive first look at the cover for the series' premiere issue, in stores on May 30th. But wait, there's more! We reached out to Art and Franco to exclusively give you fine readers of THE SOURCE a few teases about what to expect in SUPERMAN FAMILY ADVENTURES. Take it away, fellas:

"Superman is here! And he's bringing his family!!! AW YEAH!" said Baltazar. "Working on SUPERMAN FAMILY ADVENTURES is truly a highlight to my career. Everything you know about the Superman mythos is here in this comic. You will see Bizarro, Parasite, Brainiac, Metallo and yes, even Lex Luthor! Writing and drawing bad guys is really cool! We had bad guys in TINY TITANS, but this time, they fight the heroes! ACTION! ADVENTURE! HUMOR! BIG GORILLAS! GIANT ROBOTS! LOIS! JIMMY! PERRY! and…SUPER PETS!!!! Whaaaa? Yep, that's a true story right there! SUPERMAN FAMILY ADVENTURES is gonna rock! Aw yeah Krypton!"

"SUPERMAN!!! Are you kidding me? SUPERMAN!!!" continued Franco. "Ask any comic creator and this will be the number one guy they want to work on!! I'm definitely excited to be able to work with my good friend Art Baltazar on the all-new SUPERMAN FAMILY ADVENTURES. The book is going to be filled with amazing adventures, stories and humor featuring the entire cast of the Superman family – Lois, Jimmy, Supergirl, Superboy and even a few surprises you haven't seen in a while like Fuzzy The Krypto Mouse. You should come along because this is going to be a fun ride!"
My biggest question right now is: will Superman Family Adventures be released day-and-date digital?