Supergirl to star in Super Best Friends Forever shorts in 2012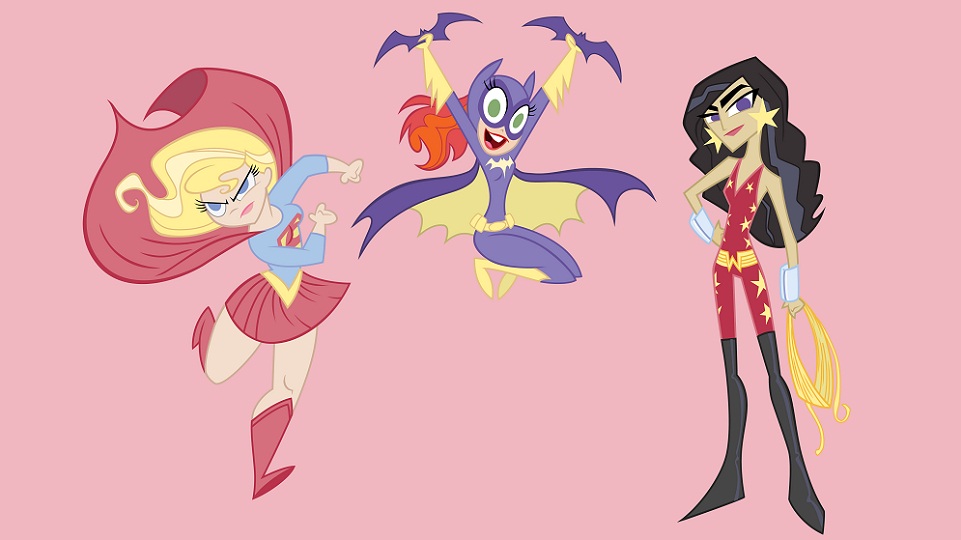 Supergirl, Wonder Girl, and Batgirl will star in a series of animated shorts called Super Best Friends Forever on the Cartoon Network, in a programming block called DC Nation that will debut on the American cable TV network on March 3, 2012.
The DC Nation block will intersperse a series of animated shorts with its ongoing half-hour animated series. Warner Bros. Executive VP of Creative Affairs Sam Register described the shorts as "Short, little animated bits, a minute, a minute-plus" in a video preview for DC Nation and "Beware the Batman".
Super Best Friends Forever is created by Lauren Faust, creator of My Little Pony: Friendship Is Magic, story artist on Powerpuff Girls and head writer on Foster's Home for Imaginary Friends. The shorts will feature Wonder Girl, Batgirl and Supergirl joining together to fight crime. You can view more artwork by Lauren Faust on her DeviantART page.
Cartoon Network has a three-year deal with Warner Bros. Animation and DC Comics to make material for the upcoming block. Highlights include Aardman Animation creating new claymation Batman shorts, Plastic Man animated shorts, and the creator behind My Little Pony: Friendship is Magic working on a series of animated shorts teaming Wonder Girl, Batgirl, Supergirl called Super Best Friends Forever. Additionally, there is also a series of Doom Patrol animated shorts in production. The block will also host a series of behind-the-scenes videos, special interviews, and much more. DC Nation, slated to run for at least three years on Cartoon Network, will debut in Spring 2012 with Young Justice and Green Lantern: The Animated Series.

– The World's Finest: "Beware The Batman" CGI Animated Series Coming For 2013, "DC Nation" Updates
Other shorts of interest include
I'm super happy to see these characters appearing on TV, even if it's just in the form of minute long shorts.
Lauren Faust has posted an interview with TV Guide that shows us what Batgirl and Wonder Girl will look like on the new Super Best Friends Forever shorts on DC Nation starting in March. The article's text follows.
"Short Stuff"

Pullquote: Each S.B.F.F. short runs just over a minute. "It's like a visual joke," says producer Lauren Faust.

Saturday mornings are super again. Harkening back to the glory day of the 1970s and 80s when kids got their weekends going with Super Friends and Schoolhouse Rock, Cartoon Network is launching DC Nation, a programming block that showcases the heroes of the DC Comics library. Anchoring the hour will be the new CGI show Green Lantern: The Animated Series (10am/9c) and the continuation of the first season of Young Justice (10:30am/9:30c). Scattered throughout the hour are animated shorts and interstitials with news and vignettes from around the DC universe.

Though some shorts feature big names like Superman and Batman, many will put the spotlight on "characters we've always wanted to see animated, but that might not be able to support a whole series," says Peter Girardi, senior vice president at Warner Bros. Animation, which is coordinating the block. Among the second-tier characters featured are Black Lightening, Doctor Fate, the Doom Patrol and even Vibe, a short-lived Latino member of the Justice League in the '80s.

A humorous tone runs through all the shorts, including S.B.F.F. (short for Super Best Friends Forever), which stars Batgirl, Supergirl and Wonder Girl and "has plenty of action and fighting, but is really much more focused on comedy and laughs and how much fun it is to be a superhero," says producer Lauren Faust. "It's like taking a teenage experience but putting a superhero spin on it. In one episode Supergirl and Batgirl try to convince Wonder Girl to sneak out in Wonder Woman's invisible jet and go for a joyride." Guess even supergirls just wanna have fun. – Rich Sands
How My Little Pony's Lauren Faust will make you love Batgirl and Supergirl all over again