Supergirl Stars in DC Super Hero Girls: : Super Hero High Animated Movie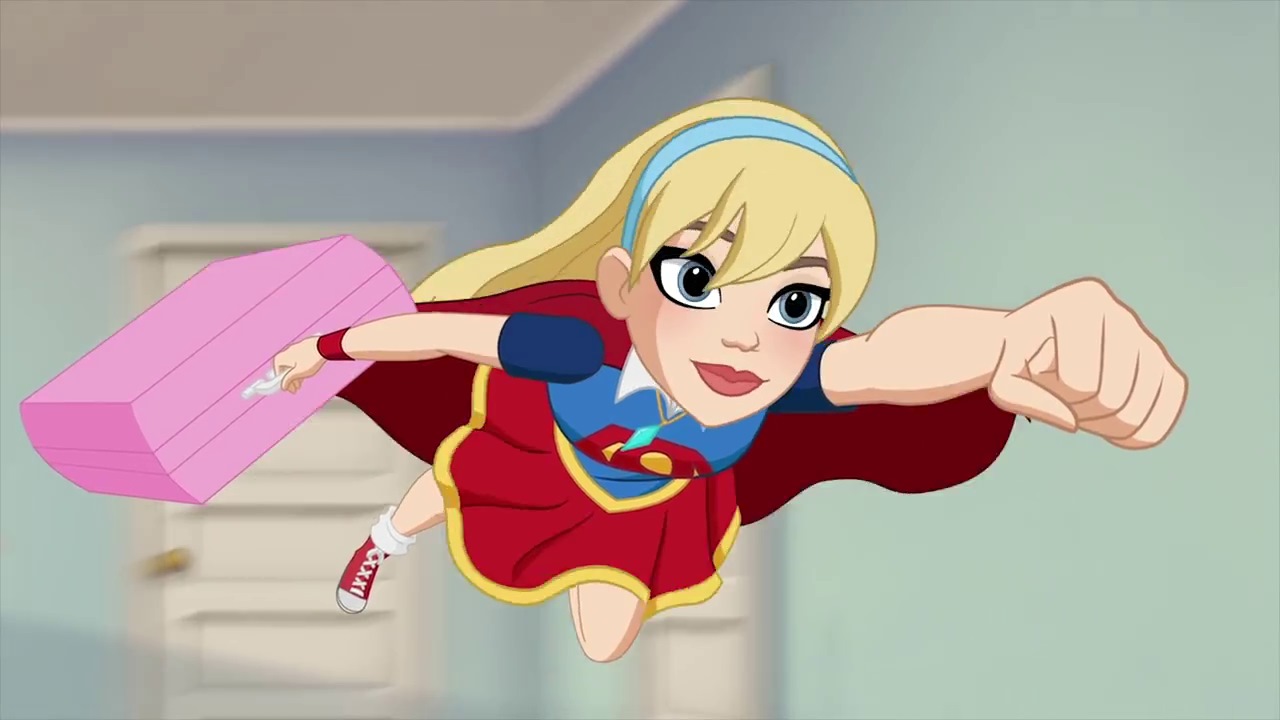 The trailer for the animated special DC Super Hero Girls: Super Hero High has been released, and not only does Supergirl make her long-awaited debut in the DCSHG universe, she's the star! Barbara Gordon will also play an important role as Kara's confidante as she enrolls in Super Hero High. Now we know why both Supergirl and Batgirl were mysteriously absent from the short webisodes which focused on Wonder Woman. While Barbara appeared briefly in her civilian identity, she has not yet appeared as Batgirl.
Naturally I'm delighted that Supergirl gets to be the one to star in the first proper episode. I was sad when she didn't appear in the shorts despite being featured prominently in the opening. Here's hoping this will develop into a series of full-length episodes focusing on the other characters in turn.
The trailer shows Kara eager to start her first day at the special school, and she's pretty excited. Like, fly into the wall excited. Thank goodness for invulnerability!
If you listen closely, you'll hear the voice of Helen Slater as Kara's adoptive mom. I'm loving the legacy aspect of bringing back the original Supergirl for both the CBS and animated series. Dean Cain is voicing Jonathan Kent, which is a bit puzzling. Will Kara's adoptive parents be the Kents instead of the Danvers? That would explain why they both have grey in their hair.
The 60-minute special will air in the U.S. on the cable network Boomerang on March 19th. No word yet on when it will be available elsewhere, but it seems likely that it will be made available on DVD and digitally worldwide sometime after the live TV airing, in step with the international distribution of the DC Super Hero Girls merchandise starting in July.
Super Hero High Premieres Saturday, March 19 On Boomerang
Tune into Boomerang on Saturday, March 19 at 10 a.m. for an action-packed hour with Super Hero High, a special featuring the stellar lineup of female Super Heroes from DC Super Hero Girls.
Super Hero High is buzzing with excitement over new student, Supergirl. But when Supergirl crash lands into the cafeteria, it's evident that though she has incredible power, she has a long way to go before she becomes a Super Hero. Too intimidated by the other supers to ask them for assistance, Supergirl turns to helpful I.T. girl, Barbara Gordon. Barbara takes Supergirl under her wing and introduces her to the sweet, old librarian, Granny Goodness. As Barbara helps Supergirl learn to harness her powers, Wonder Woman joins them and becomes a mentor and friend to Supergirl. Meanwhile, the Junior Detective Club (The Flash, Bumblebee and Hawkgirl) investigates a mysterious rash of security breaches centered around the teleportation "Boom Tubes." Could it all be because of reformed Super-Villain and Super Hero High Vice-Principal Gorilla Grodd – or something far worse?
The Super Hero High television special stars Anais Fairweather as Supergirl, Mae Margaret Whitman as Barbara Gordon and features an all-star voice cast of DC Comics universe veterans, including Greg Cipes, Tara Strong, Ashley Eckstein, John DiMaggio, Tom Kenny, Helen Slater and Dean Cain. Jennifer Coyle (Bob's Burgers) is the television special's producer and director. Sam Register (Teen Titans Go!) serves as executive producer. Shea Fontana (DC Super Hero Girls) serves as writer of the television special and animated shorts, as well as the DC Comics graphic novel.
via DC Comics