Pullip Supergirl Doll from Korea
Pullip is a stylish collectible fashion doll from Korea that stands about 12 inches tall, has a large 1/3 scale head on a 1/6 scale body, big eyes that can wink and look side-to-side, and articulated joints that enable her to pose in a range of lifelike positions. The clothes are removable and there is a wide range of fashions created for her size. She is similar in proportions to Blythe, but has a prettier, distinctly Korean aesthetic that I find very appealing. She really is the perfect choice for a Supergirl doll.
Pullip Supergirl is a limited edition 2013 San Diego Comic-Con exclusive, but like many recent Pullip releases she is still available for purchase for below the MSRP of $144.99 USD (yes, these are high end collectibles). I purchased mine from Pullip Style for $119.95 USD.
I was surprised to learn that this is not DC Comics' first Pullip collaboration. There are Pullip Wonder Woman, Batgirl (with blue-haired variant), Catwoman (with blonde-haired variant), Harley Quinn, and a Batman (using Pullip's boyfriend Taeyang). You can see them all on the official Groove USA site. They're pretty darn adorable.
Of course I had to get Supergirl, and I wanted Batgirl as well. Being an older release, Batgirl is only $98 USD at Pullip Style, and USPS Priority Mail International to Canada is the same for one or two, so I ordered both. I mean, Supergirl would have been lonely by herself! I've been eagerly awaiting them all week and they just arrived yesterday. I was so excited! I unpackaged Supergirl last night and she's just too cute for words. I'm already looking at clothing to buy online.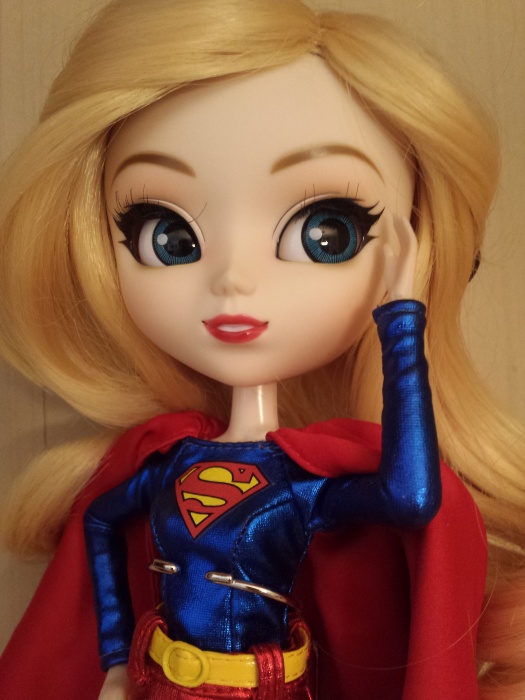 They're incredibly well packaged which makes it a chore to get them out, so Batgirl is still sitting pretty in her box. Pullips and Junk has a number of excellent photos of Supergirl unboxed. She looks amazing.