Entertainment Weekly Interview with Melissa Benoist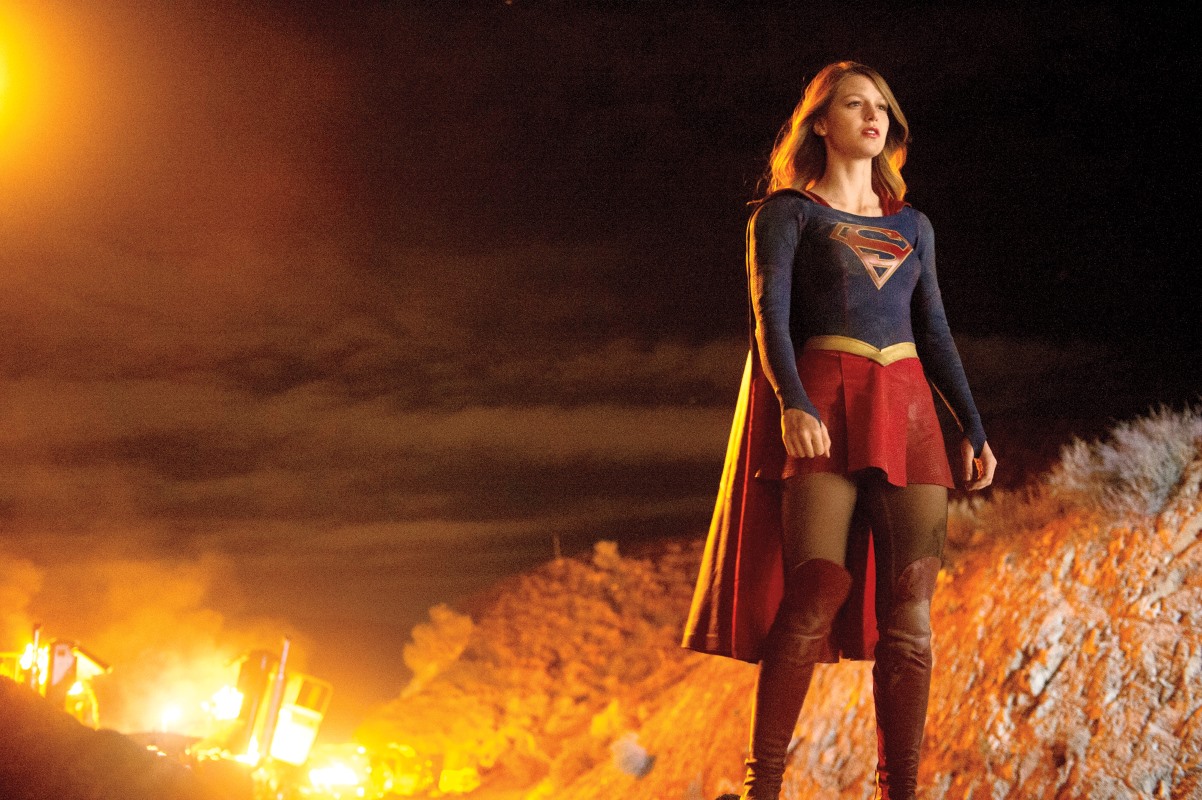 This week Entertainment Weekly released their Comic-Con special issue and inside there is a very in-depth interview with Melissa Benoist. They have posted the entire interview online, which you can read here: Supergirl's Melissa Benoist on landing the role of a lifetime.
I've jotted down my thoughts on a few of the interview questions.
Were you a big comic book fan growing up or have you had to play catch up now that you have this role?
Strangely, I was a DC fan, not so much the comics. I loved Michael Keaton's Batman. I grew up with those movies. One of my closest friends is a huge comic book reader and has been since he was very, very little. He really turned me onto them in college — more graphic novels than comic books. I have had to play some catch up specifically with the Supergirl books. I've been reading the new 52 series and more of the newly published Supergirl comics.
How strange that version must seem compared to the show. Those issues are a lot more readable and accessible than the Silver Age stories, but I wish people could know that that's not the only or even close to definitive version.
How do they make Kara relatable even though she's an alien?
What I love about Kara is that unlike Kal-El, Superman, he came from Krypton when he was a baby, so he has not much recollection of where he comes from and his planet, but Kara was 12 or 13, she was an adolescent and grew up on Krypton, so she knows what she's missing. When she gets to Earth, she's not used any of her powers for years. There's a lot of room for mistakes. She's got a lot to learn when we meet her in the show. That's what makes her so relatable. She has so much power that's locked up inside of her. She is really figuring out how to break free and get to know who she is.
I'm really interested in the idea that Kara has already used all her powers, including flying, prior to the events of the pilot, but she's unpracticed in them. It sounds like Melissa is saying that Kara had powers on Krypton, but I don't think that's what she meant. I bet we'll see flashbacks to her teen years as she discovered new powers.
Update: Ali Adler has confirmed that we will see Kara exploring her new superpowers in flashbacks: "We'll absolutely see some flashbacks of her discovering them, because she was 12 years old when she landed here, and she didn't have these powers on Krypton," EP Ali Adler says. "Kara hasn't used these powers very much or very well. There will definitely be a learning curve at the beginning of the season."
You're following in the footsteps of Helen Slater, who appears in the Supergirl pilot. What advice did she give you?
The advice I did get made me so jealous. We started talking about it and she asked me what kind of training they had me doing. At that point, I was just doing some boxing, strength training and a lot of core work. She gave me this look, and I was like, "Why, what did they have you do?" "Oh, I went horseback riding, and fencing and doing some archery and I was swimming." She went through this whole gamut of awesome outdoor activities that I would love to do to train. Also, she's just so kind and such a sweet, sweet woman. That's really what I've learned from her. She really is a super girl. I'm so honored that I'm following in her footsteps.
I never knew about the horseback riding, fencing and archery. How weird! I can't imagine why the trainers would think any of those would be useful for the film. I find it interesting how the physical training methods for female actors has changed so much over time. Boxing, strength training and core work for the flying sequences makes much more sense, but they sure wouldn't be as enjoyable as what Slater got to do!
The first Supergirl trailer had some mixed reactions. There were some comparisons to the Black Widow Saturday Night Live spoof, but you also have Cat Grant (Calista Flockhart) pointing out why she should be Supergirl not Superwoman. Do you think Supergirl sends a message of female empowerment?

I do. Of course, I do. We don't really take ourselves too seriously in that respect. The camp is going to be there. It's a superhero show. But I don't think that takes away from the female empowerment. Obviously you see Kara in her work atmosphere, it resembles the Black Widow parody, but what you don't see is Kara kicking butt. There's so much more in the pilot that I think people are really going to be surprised by. Also, it's a girl. Supergirl, that whole discussion, it's a girl figuring out how to become a woman.
Here we get some insight into how the creators are approaching the character. While I still think there's a gendered double standard in calling her Supergirl at that age, I like the idea of this being about Kara's journey into adulthood. There are so many similarities with The Flash, where Barry starts off as very green and struggling to meet the expectations of adulthood. Supergirl seems to be following that template of showing the hero growing into maturity, and I really like that.