Review: DC Comics Cover Girls Supergirl Statue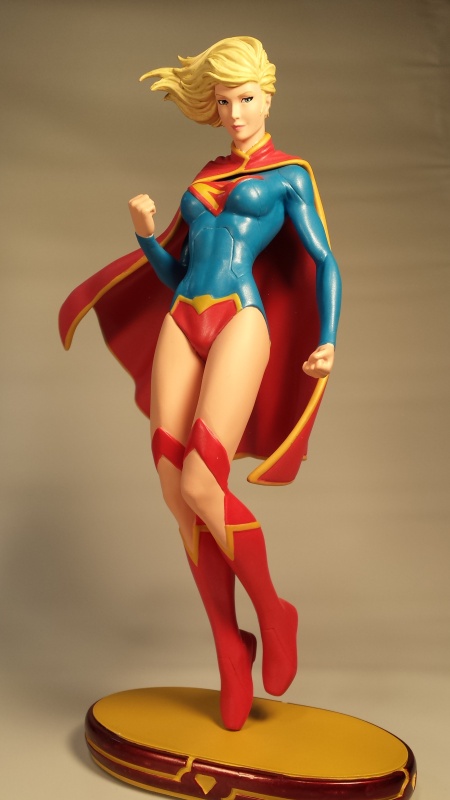 The DC Comics Cover Girls Supergirl Statue is one of my favourite collectibles. It's a beautiful piece and good quality for DC Collectibles. I'm very picky about my statues and busts, and I think this statue pulls off the New 52 costume very well given the strange red underwear and cut-out boots that Jim Lee gave her.
I love the way Kara's hair looks like it's blowing in the wind. I understand the complaints that this doesn't look like the comic book version because we can't see the angled haircut and shaggy bangs that make her New 52 look so distinctive. And it's true that her face doesn't resemble the youthful comic book Kara as illustrated by Mahmud Asrar. But I don't have a problem with that. Her face is lovely and I love the kinetic energy of the hair. We've had a slew of figures come out that more faithfully replicate her New 52 appearance, and I'll be picking those up as well. This statue has a very iconic look. The clenched fists, the subtle knowing smile, the suggestion that she's poised in the air only for a moment before swooshing away — love it.
It's a bit hard to see her face when looking directly at the statue due to the downward tilt of the head.
This 10-inch statue was released in October 2013 as part of a series of DC Comics Cover Girls statues designed by Stanley Lau and sculpted by Jack Mathews. The art team did a terrific job translating Lau's original design, which was a little too "sexy babe", into a graceful heroic pose that I'm proud to display on my shelves.
When I was putting this statue together, I couldn't believe that the whole thing is attached to the base by only a small piece of metal slid into the base of one foot. That's all that's holding her up! I haven't had any problems in the four months I've had this, so it's pretty stable. I'm always amazed how they can engineer these statues to stand with such little support.
If you only get one New 52 Supergirl figure, I wholeheartedly recommend this statue.
For sale at Big Bad Toy Store. I bought mine locally.