The following releases are out of print.
Distributor: Warner Home Video
124-minute International Version (labelled "European" version by Warner)
Release Date: November 28, 2006
Bonus features: Theatrical Trailer and Audio Commentary by Director Jeannot Szwarc and Historian Scott Bosco (previously released on the Anchor Bay DVD).
Distributor: Anchor Bay Entertainment
1. International Edition DVD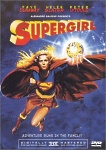 Release date: August 8, 2000
Standalone release of the 124-minute International Version.
The original theatrical version of SUPERGIRL was released in North America for the first time in 2000 by Anchor Bay Entertainment.
Bonus features: 16-page full color booklet; Audio Commentary with Director Jeannot Szwarc and Special Project Consultant Scott Michael Bosco; "The Making of Supergirl" Featurette; U.S. & Foreign Theatrical Trailers; U.S. TV Spots; Original Storyboards; Still & Poster Galleries; Talent Bios.
2. Director's Cut DVD
Release Date: May 7, 2002
Standalone release of the 138-minute Director's Cut. No bonus features.
Anchor Bay released the 138-minute Director's Cut separately two years after the Limited Edition. This is the longest cut known to exist (the original rough cut was 150 minutes), although no one knows exactly who created it, and the director had no knowledge of its existence. The elements for this cut were discovered by accident in a container labeled "Do Not Use", and it was believed to be a cut intended for TV syndication, as some expletives have been dubbed or cut. (Source: Superman Cinema Interview with Scott M. Bosco [archival link])
3. Limited Edition 2-Disc DVD
Release Date: August 8, 2000 (50,000 copies)
Disc 1: International Version
Disc 2: Director's Cut
Superman Cinema: Director's Cut Analysis [archival link] breaks down what was left out in the international version and lists the very few lines that were cut or dubbed from the Director's Cut. The IMDB SUPERGIRL Alternate Versions page lists details of scenes not included in even the director's cut, presumably originating from the original rough cut. More information is available in Behind the Making of the SUPERGIRL DVD.